In this article you will learn step by step how to make your own blue cheese culture (Penicillium Roqueforti) at home.
The best part?
You will save hundreds of dollars by producing your own Penicillium Roqueforti.
And if that's not enough…
It allows you to have blue cheese cultures on hand for when you make your next blue cheese at home.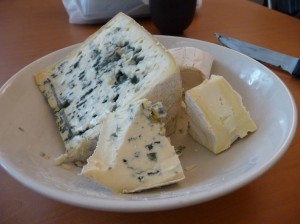 Are you a blue cheese fan? Do you love yourself some funky blue mold?
I have to say that blues aren't my favourite cheese, but I can certainly enjoy the right one when I'm in the mood. I've had a couple of blue cheeses that were absolutely delicious, and there are certain times when I crave that extra something in my cheese.
If you're a blue cheese fan and a home cheese maker, I'm guessing you're either already trying your hand at making your own blue cheese? Or at least it's in your future plans.
A lot of Curd Nerd's are absolutely passionate about their blue cheeses, and are busy perfecting their own versions. Some have great success, others are finding it a bit more challenging. Getting that blue mold to grow as it should is usually the biggest test.
Isn't it typical that when we don't want the molds they happily grow, but when we do want them, they often seem to be elusive?
A Great Home Cheese Making Cost Saving Tip
The great thing is that like most cheese types, you can easily buy the cultures you need to make blue cheese. But in another cost saving tip, and so as to provide you with a new cheese making challenge, I want to share a resource with you that tells you how you can cultivate your own free source of blue molds (Penicillium Roqueforti).
While noseying around the internet at what other cheese makers are writing about I found this article about how to make your own Penicillium roqueforti – blue cheese mold.
Now I haven't tried it myself yet. As I said, blues aren't my favourite cheeses, therefore I don't make them often. When I do it's normally as a gift for my father in law who LOVES a good stinky cheese.
But I'm all for ways to get back to the traditional ways of making cheese, and this 'recipe' involves growing your own blue mold spores, similar to how it would have been done traditionally, rather than using a mass produced culture.
How To Make Penicillium Roqueforti Spores
It involves leaving a piece of sour dough bread with a pea sized piece of ripened blue cheese.
Leave the cheese and bread in an airtight container for two weeks.
Monitor the spread of the mold on the bread and flip it every couple of days.
Wipe off excess moisture from the container, to avoid the bread going soggy.
Once the growth of those special Penicillium Roqueforti spores, has consumed the bread in blueish-green mold the bread is ready to be dried.
Leave the container opened for a few days allowing the bread to dry. Ensuring to flip the bread so it fully dries.
Once fully dried, store in an air tight jar. The jar does not need to be refrigerated and the penicillium roqueforti spores will last for years.
Recipe: David Asher
How To Use Bread Mold Penicillium Roquerforti To Make Blue Cheese
Use a pea sized piece of penicillium bread mold to every 3.7L or gallon of milk. Mix the bread with a quarter cup of water to release the spores. Then pore the water into the milk through a strainer, then simply begin your blue cheese recipe.
Even though I haven't tested whether this works or not I wanted to share it with you so that you can try it, and perhaps come up with your own world famous blue.
Your family and friends might wonder why you have a stash of moldy bread you seem to be nurturing, but you'll know the potential that lies within : )
The other thing I love about this method of making your own cultures is that it takes something you can easily get your hands on and with little effort and very little money, soon providing all the Penicilium Roqueforti you want or need.
I love the whole concept of taking one thing and making something just as good or even better as a by product.
And who doesn't want to save money on cultures? They can be pretty expensive if you're making cheese regularly.
If you don't want to make your own Penicillium Roqueforti, you can get it below or in our Curd Nerd Shop.
Do you have any questions or comments about cultivating your own blue mold? Join the discussion over at the Curd Nerd Forum. We would love to hear from you!